How an HVAC Technician Rolls
When Heating, Ventilation, and Air Conditioning (HVAC) technicians arrive at a job site, they frequently arrive with a wide range of tools and materials. HVAC technicians service a lot of different places, including homes, apartment complexes, businesses, and schools. This means they can encounter a number of situations and needs when completing a service call. While each technician has their own preferences, here are some of the tools and items an HVAC technician might carry on the way to a job site.
A Look Inside
Some technicians will use a larger pickup truck while others will use a van. While vans can provide more storage space and built-in shelter from elements, some technicians prefer the feeling and comfort of driving a truck. Trucks can also be quieter than vans in transit, and boxes added to trucks can provide a more customized storage system.
The front part of the vehicle usually has items the technician will need handy for all trips. This includes needed papers such as manuals, invoices, and service agreements. These are important because they guide what should be done in a job. Having manuals for multiple companies is also important to make sure the technician can work on any system. This area might also have some personal comforts, such as snacks, water, knee protection, and a stereo system. Some technicians also use this place to keep a first aid kit for simple injuries. Technicians can also carry items that will promote their business, such as business cards. Some workers carry an iPad or tablet to maintain online communication.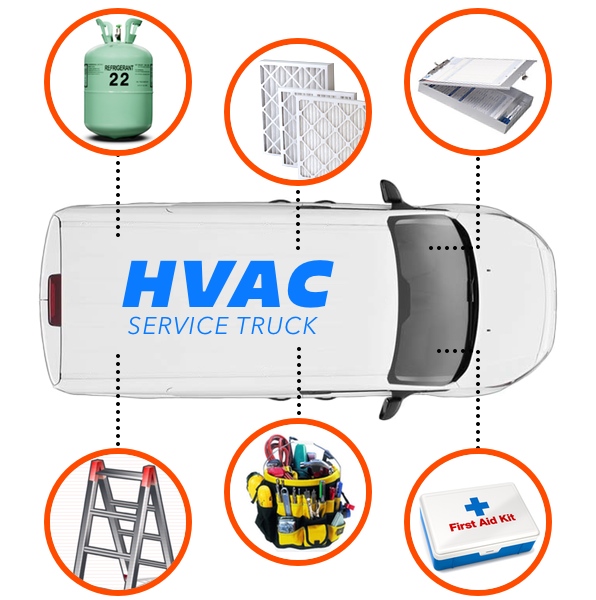 Tools of the Trade
Technicians need a wide range of tools because in addition to HVAC work, they frequently have to work around issues such as plumbing and drywall. HVAC technicians will carry a collection of common hand tools for their jobs. These include screwdrivers, various nuts and bolts, hammers, wire cutters, pliers, and drills. Technicians also carry lights to illuminate hard-to-reach areas such as attics or under houses. Ladders in various heights are also helpful for an HVAC technician to have. Clamps are useful to hold pipes and other items in place, so a technician will carry clamps in various sizes.
For the HVAC-specific tools, the technician has a wide range of items to consider. Before fixing anything, a technician has to find out where the problem is and how bad it is. This is where a technician would use refrigeration gauges to measure levels of refrigerant fluid. Refrigerant scales are also used to measure the level of refrigerant levels. Technicians can also carry sensors that measure leaks and filtration. There are multiple refrigeration fluids out there, so a technician can carry a few kinds to fill up an HVAC system.
Some technicians will carry items such as Oxy-Acetylene torches to braze copper pipes in the HVAC system. HVAC unit drains can also use PVC pipes, so some technicians carry PVC connectors, pipes, and glue to add needed materials. To create valves or to join pipes, technicians will use a variety of fittings.
Because maintaining air quality is important, an HVAC technician can also carry extra filters to replace ones that at damaged or dirty. There may be other parts that need cleaning, so there are cleaning materials a technician can use. These can include rags, soapy water, degreasers, and protective equipment such as disposable coveralls.
A Look Behind the Scenes
Depending on the type of job an HVAC technician is doing, there can be quite a lot of issues to consider. These workers encounter numerous problems they have to overcome, including the tasks that can get in the way. By carrying a wide variety of tools, an HVAC technician can face multiple problems and can confidently serve customers.
---
Bob Jenson
For over 45 years, Bob Jenson has been providing quality heating and air services to the San Diego community.
---
Request Service
Please fill out the form below to request an estimate or schedule service.