Different ducts in your home
If you have a home with old duct work, you are likely throwing money out the window. The California Energy Commission reports that the average duct system leaks 30 percent of the air that flows through it. Take a look at five older duct types that are common in Southern California and see if you can recognize your type in this list: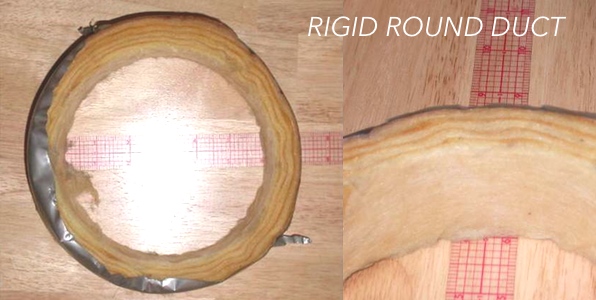 Ridged Round / Super Round Ducts
– These are round ducts made entirely from formed fiberglass. As the fiberglass is exposed to the airstream, it finds its way into the home when it deteriorates. The R-value (or the capacity of the insulating material to resist heat—the higher the R-value, the better) is medium to low and these ducts tend to have a lot of leakage at all connection points.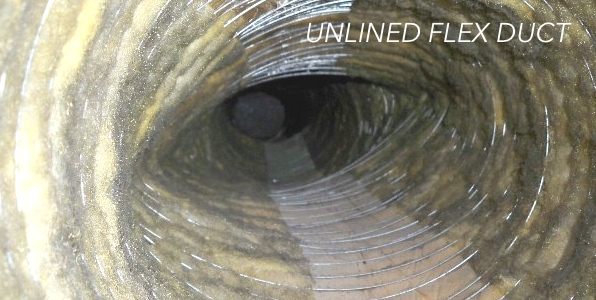 Unlined Flex Ducts
– These are round flexible ducts with fiberglass insulation wrapped around a spiral metal wire core. The fiberglass is often fully or partially exposed to the air stream, which can cause problems as it deteriorates. Debris gathers on the inside walls easily. R-value is medium to high, and leakage occurs due to tearing and older duct tapes that break down in attic heat.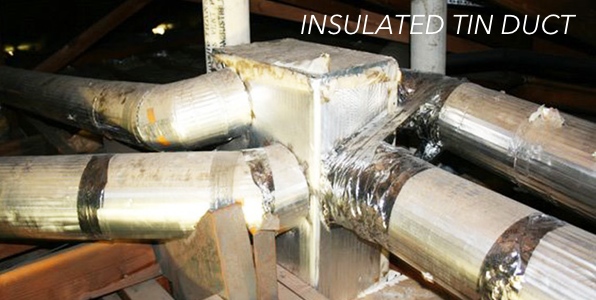 Tin Ducts
– These are usually smaller round metal ducts that lack galvanizing and tend to rust inside. R-value is very low due to poor, thin insulation wrapped around the outside, which gets torn or falls off the ducts. This type of duct work has high leakage due to rarely sealed connection points that are often just screws or welds.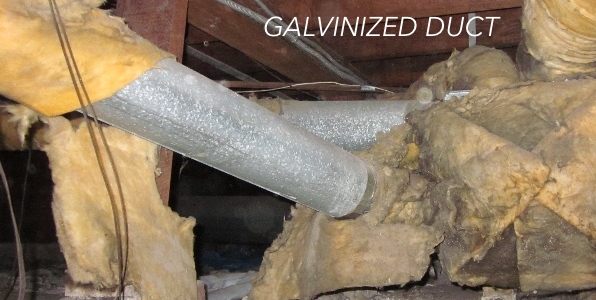 Galvanized Metal Ducts
– With these types of larger round metal ducts, there is actually efficient airflow from lack of friction. However, poorly hand-wrapped insulation on the outside lowers R-value to give it medium to high air leakage depending on the type of sealing at connection points. With this system, fiberglass is not exposed to the air stream.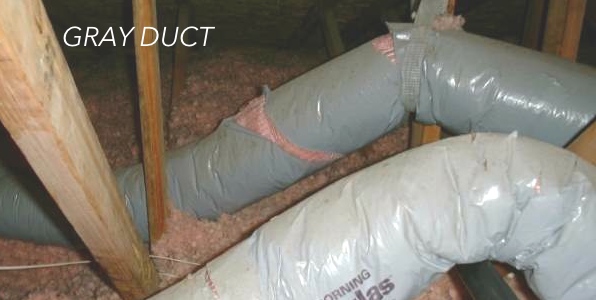 Flex Ducts (Grey)
– These are insulated flexible round ducts found in many tract homes. They are made of a metal spiraled core with a plastic inner liner wrapped in R-4.2 fiberglass insulation and covered in a grey plastic outer jacket. The outside jacket of these early flexible ducts easily deteriorates from the UV light and allows the insulation to fall apart, finally exposing the inner plastic liner to the heat and UV elements. Ultimately, this type of system breaks apart and the result is major air leakage, along with dust and debris infiltration.
So what can homeowners do to improve air flow efficiency once they've identified old and outdated materials? Take a look at just a few suggestions: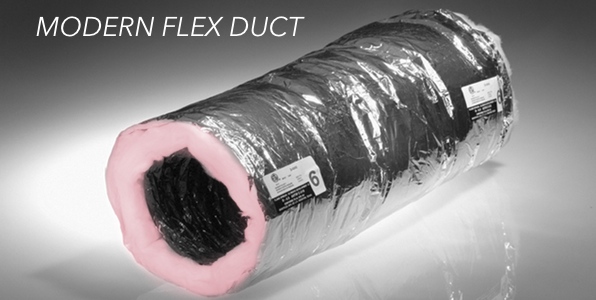 Upgrade to Flex Duct (Silver Metalized Jacket)
– These are the newest generation of flexible ducting that features upgraded materials to protect against UV and temperature damage. They have a higher R-value and, if installed properly, can produce as little as 6% leakage.
Seal ducts. If you can avoid it, do not use duct tape or any other temporary sealing fixes. You want your duct repairs and efficiency improvements to last as long as your ducts do. If there are leaks in your ductwork that are smaller than a quarter inch, you can apply a bead of mastic. If the leaks are wider than that, apply mastic that is at least 3 inches wide and runs the entire leak length. After that, apply a coat of fiberglass mesh, at least 2 inches in width, and then put another layer of mastic on top of that. The process is not especially difficult, but if you have never watched someone do it before, it can be tedious. You might fare better to ask a professional like Bob Jenson to help you with your sealing project.
Add duct wrap. Flexible ducts and duct board generally have strong R-values, but if you have sheet-metal ducts you may want to add some extra insulation with the help of duct wrap. This does not actually fix leaks but it will keep the air from completely escaping the duct system.
Imagine the savings over time on your utility bill if you were able to prevent the cost of duct leaks. If your home features duct work that could use a checkup and update, or if you're interested in ditching the ducts altogether in favor of a ductless system, contact a professional HVAC technician like Bob Jenson Air Conditioning and Heating.
---
Bob Jenson
For over 45 years, Bob Jenson has been providing quality heating and air services to the San Diego community.
---
Request Service
Please fill out the form below to request an estimate or schedule service.