Poor Air Quality – How it Effects You.
Air quality is graded based upon the number of fine liquids or solids — smog, dust, smoke, fumes or other air emissions — and it can have an impact on the quality of life in your city. That's why it's important to maintain your air conditioning and heating systems, whether it's at home or the office. Here's a look at the 10 cities in the united which have the worst air quality.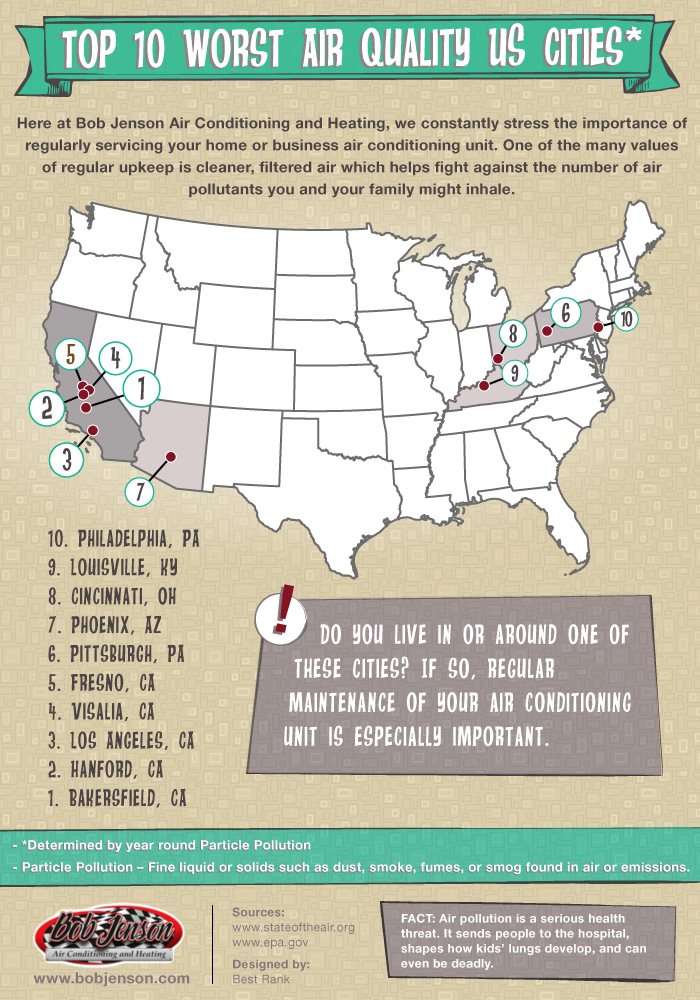 What can you do about it?
As you can see California, more specifically Southern California has some of the worst air pollution around. Living in San Diego we are not immune to bad air, especially after many brush fires happen each year. While we have no control over air pollution outside our homes we can decide how healthy our air will be to breath inside our home!
Protect you and your family by learning more about how you can control bad air using air quality filtration in your home. We also recommend an air conditioning maintenance on your system at least twice a year, once before summer and once before winter. Call Bob Jenson to get a free in-home, air quality filtration estimate and breath safer, healthier air from now on!
---
Bob Jenson
For over 45 years, Bob Jenson has been providing quality heating and air services to the San Diego community.
---
Request Service
Please fill out the form below to request an estimate or schedule service.